Nicola Davies can write everywhere and anywhere: as long as it is not too noisy… And she can't multi-task…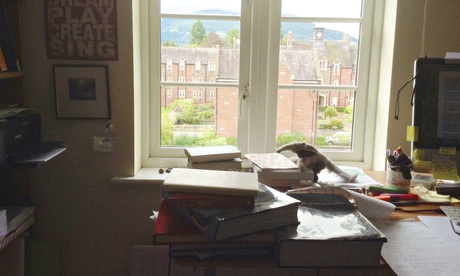 Two things are important to me when I'm actually at the stage of putting words onto a page or into a computer: a view and silence.

Mostly I write in my study at the top of my house because it gives me both. The view is over the top of a Victorian mental hospital, to the Blorenge – the mountain that stands above Abergavenny, where I live. The light over :"my mountain" changes through the day offering different kinds of distraction and comfort when I need them. The resident hospital pigeons provide light relief – the ludicrous displays of the males to the largely indifferent females are visible in animated silhouette along the roofline. 
via Nicola Davies: where I write | Children's books | theguardian.com.