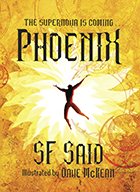 The best children's literature of 2013
From picture books for toddlers to novels for teens,
Julia Eccleshare and Michelle Pauli choose this year's
standout titles
Find out which other books have been selected here:
The best children's literature of 2013 | Books | The Guardian.
Great to see a title by Urusla Dobosarsky in PW's Best Fiction selection.
Click through from the link for the slide by slide presentation in each of the three categories:
Picture Books
Fiction
Nonfiction
Selecting just 50 titles from the thousands of books published for children and teens in a given year is always a painful undertaking, and this year was no different. With that said, it's also one of our favorite end-of-year challenges as we try to determine which stories rose to the top of a field crowded with singular ideas, hilarious writing, and unforgettable characters.